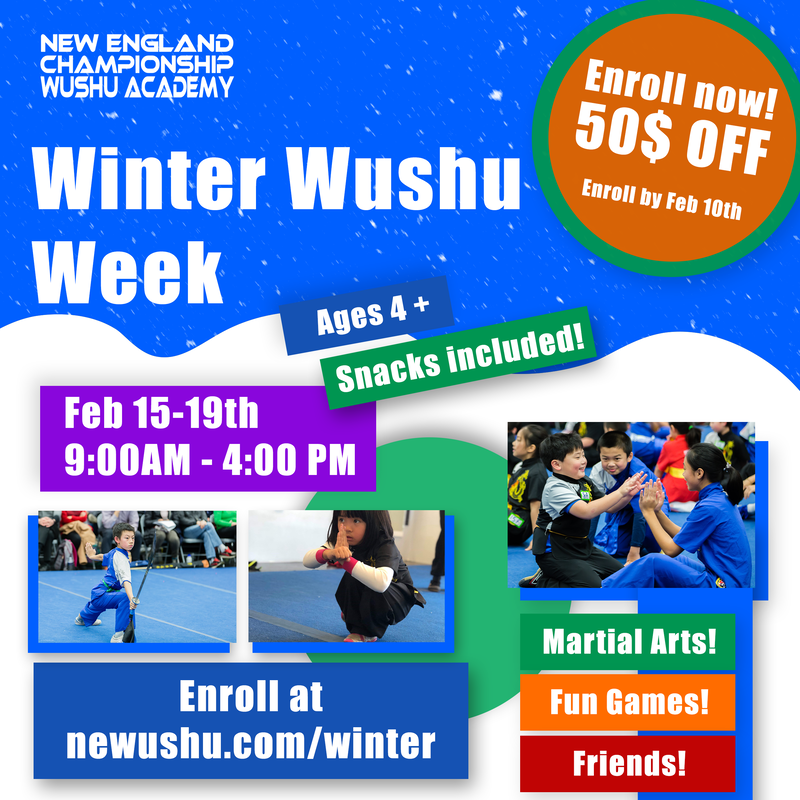 ​
We strongly encourage competition team members to enroll in the full week training. Competition team will practice separately from the main group.
---
Enroll Here
---
---
---
FAQ:
1) What do i need to prepare when participating in activities at NECWA?
For the most part, we require comfortable attire appropriate for physical activity when enrolled in our martial arts/Wushu program. It may be advisable to bring an extra change of clothes if needed. For Wushu weeks, please be sure to pack lunch, water and snacks (as needed). For our regular classes, we require all students to wear their academy uniform and sash.

2) What payment methods are accepted at NECWA?
We accept BOA, PayPal, Venmo (@NEWUSHU), Check (payable to NECWA), Cash and Card payment (via our virtual terminal).
​
3) What is NECWA's refund policy?
New England Championship Wushu Academy has a no-refund policy for all tuition and fees for classes. During Wushu weeks, we will consider partial refunds at the discretion of our directors (Calvin and Xiaoyi) if you miss more than half the week due to sickness or other emergencies. We will need appropriate documentation (e.g. physician's note). Cancellations of Wushu weeks (Winter, Spring, Summer) require 1 week of advanced notice before the first day if seeking full refund.