Student Leadership
​We are looking for motivated student leaders (RED sash or higher) who wish to be student leaders for our Fall 2019 session (September 2019 - December 2019). Student leaders are required to accompany coaches to at least 2 beginner level classes per week, as needed (Yellow, Blue or Green and up).
Applications due by June 30.
​Decisions will be made on July 14th.
Why student leadership is important:
1. Positive school culture: having students become engaging and contributing leaders at our academy is critical for improving the emotional, social aspects of a positive, safe learning environment. At NECWA, while the job of our coaches and staff is critically important, it has been our students and their enthusiasm and unique personalities who continue to shape the environment and culture here at NECWA.

2. Help students improve their communication skills: Being a leader is no easy task and may be a well suited challenge for many students to help them develop their communication and sociable skills. Many students lack the confidence to engage sociably especially in a large group setting, but by volunteering to be in a position of leadership many students learn gradually to become more comfortably to engage sociably with others.
​
3. Further improving their own skills: Learning through teaching is one of the best ways to learn. By teaching, there is a certain honest accountability to your own skills and often a need to reflect and mindfully evaluate one's own learning, execution of certain skills. Students will become more aware of details and various aspects which may require specific attention and work.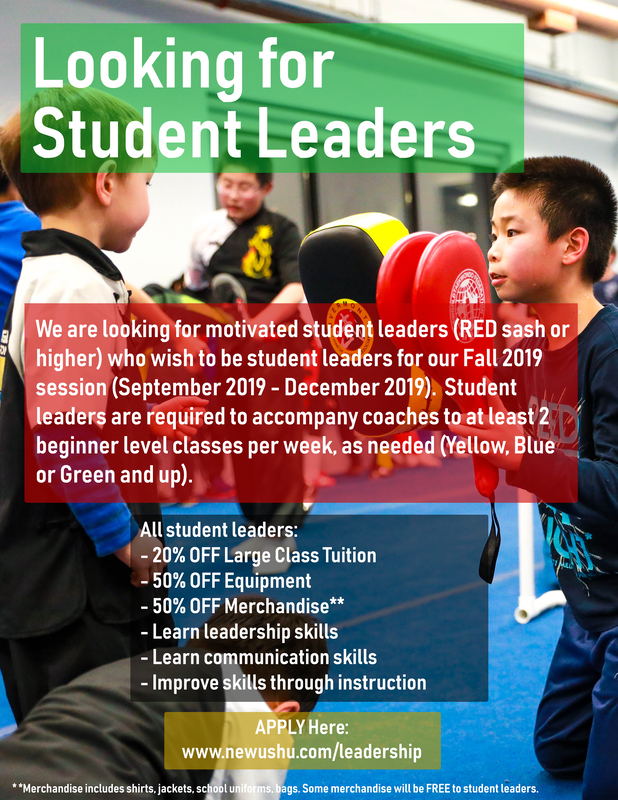 Applications due by June 30.
​Decisions will be made on July 14th.
---
Example of Leadership: Ethan teaching Cynthia Elementary Longfist Form
---
Apply Here