2020

BURLINGTON
Location: 123 Muller Rd Burlington, MA 01803
WHEN: Jun 22 - August 28 (10 weeks total)
TIME: 9:00AM - 5:00PM
FREE LUNCH INCLUDED!

Drop-off 8:30AM, Pick-Up 5:30PM
Pre-Care and After-care available


Note: Payment must be received to COMPLETE registration.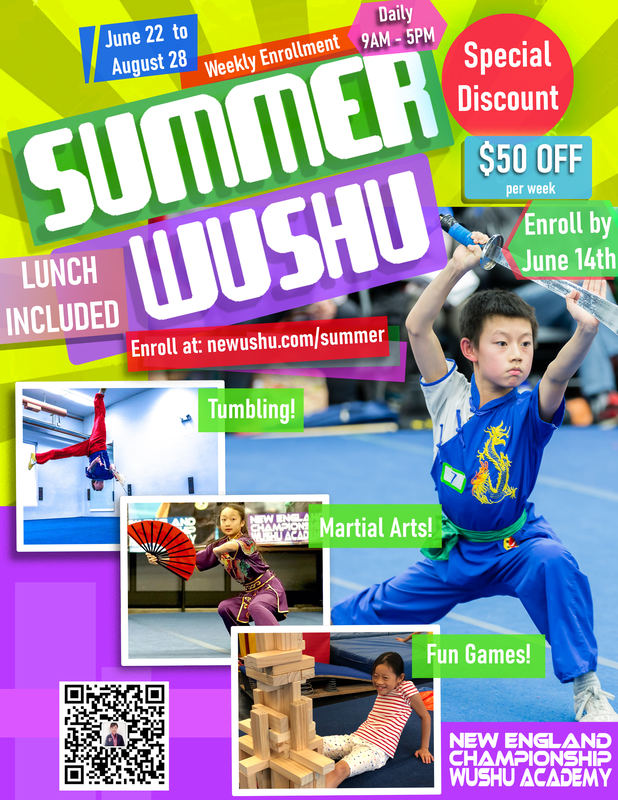 ---
Special Offer for Current NECWA Students***
Enroll in more than 3 weeks, 300$/week for each additional week)
​**Email nemawushu@gmail.com to redeem multiple week discount. Must enroll 4 weeks at once.
*** Current NECWA students, are students enrolled in the current year's Spring session. One discount offer per week. Ongoing till end of summer.

Cancellation policy: No refund given to any cancellation that is received less than 6 weeks before the Monday of each week. Rosters for most of our weeks fill up, so we do this to ensure that everyone commits to the limited spots available. In this way everyone has a fair opportunity to enroll in the weeks that best work for them.
Need to cancel or modify schedule? Email us at nemawushu@gmail.com
---
FILL OUT FORM TO ENROLL
Enrollment Tuition
ONE WEEK: 405$
PER FULL DAY: 90$
HALF DAY AM: 60$
HALF DAY PM: 75$

If paying via PayPal
1) Please contact us if you wish to pay via PayPal

If paying via Venmo
1) @NEWUSHU
2) Discounts: Payment must be made before the discount end date. Reflect payment in the paid amount.

​Pay over the phone:
1) Email us at nemawushu@gmail.com to schedule a phone call.
2) Our staff will help you enrollment and completing tuition payment over the phone.

Pay with check:
1) Fill out the form at the top of page. Select "Pay in person with check/cash" when filling out registration form.
2) Mail/bring check to 123 Muller Rd Burlington, MA 01803.
2) Discounts: Payment must be made before the discount end date. Reflect payment in the paid amount.

If paying via Virtual Terminal (credit card, debit card payments):
1) Fill out the form above.
2) Add the desired enrollment options (pay attention to the dates) in the cart below.
3) Discount codes:
- 50$ OFF: Non-NECWA students: SUMMER50 (before June 14th)
- 60$ OFF: Current Academy Students: ACAD2020
4) Register/Login account and select desired payment method.


---
---
---
---
Fun Games
Group Wushu Forms
---
Barehand Wushu
---
Weapon Skills
---
Tumbling Skills
---
Free Lunch and Snacks
Shown below are just a handful of the lunch and snack options we will provide. Each week may be slightly different and will be adjusted if a student has certain dietary restrictions.
---
Fill out form at TOP OF PAGE to enroll in our Summer Wushu Program
---
FAQ:
1) What do i need to prepare when participating in activities at NECWA?
For the most part, we require comfortable attire appropriate for physical activity when enrolled in our martial arts/Wushu program. It may be advisable to bring an extra change of clothes if needed. For Wushu weeks, please be sure to pack lunch, water and snacks (as needed). For our regular classes, we require all students to wear their academy uniform and sash.

2) What payment methods are accepted at NECWA?
We accept PayPal, Venmo (@NEWUSHU), Check (payable to NECWA), Cash and Credit Card payment (via our virtual terminal).
​
3) What is NECWA's refund policy?
New England Championship Wushu Academy has a no-refund policy for all tuition and fees for classes. During Wushu weeks, we will consider partial refunds at the discretion of our directors (Calvin and Xiaoyi) if you miss more than half the week due to sickness or other emergencies. We will need appropriate documentation (e.g. physician's note). Cancellations of Wushu weeks (Winter, Spring, Summer) require 6 weeks of advanced notice before the first day for full refund.