Youth General curriculum is our most beginner friendly curriculum. Students in this curriculum will learn the 3 fundamental aspects of Wushu including Taolu (Forms), Combat (Sanda and Self Defense) and Tumbling. The skills taught in the general curriculum help develop youth coordination, strength, flexibility and foundational skills. In addition to Wushu skills, our curriculum teaches students the 10 academy traits and academy skills. For more information on those, please see below.

Progression through the curriculum involves students testing for their next sash level. The next level sashes are awarded upon passing our sash test evaluations. All new students will begin their journey at Yellow sash and progress through 9 ranks. As of Fall 2022, our highest ranked general curriculum students are rank 7 (brown sash). More on sash testing below. Top of page
Our general curriculum consists of two types of enrollment options:


Limited: students may attend up to 5 classes per month.
Unlimited: students may attend as many level suitable classes as they wish.

Once we receive payment, a valid pass will be added to your student account. Please see below for payment options. Any questions? Email us at info@newushu.com or message us on WeChat (QR code at footer of page). A registration staff member can help you with the entire enrollment process.
If you do not have an account, please register an account by filling out the form below.

If you already have an account, only tuition payment is needed to complete registration. If you fill out the form below and an account with that email already exists, please check your email for a previous actviation email.
Top of page
Schedule is as follows:
Top of page
In addition to martial arts, our coaching staff is dedicated to teaching our students the importance of etiquette and respectful behavior. Our youth students will learn the 10 academy traits alongside their martial arts training (See below).
Top of page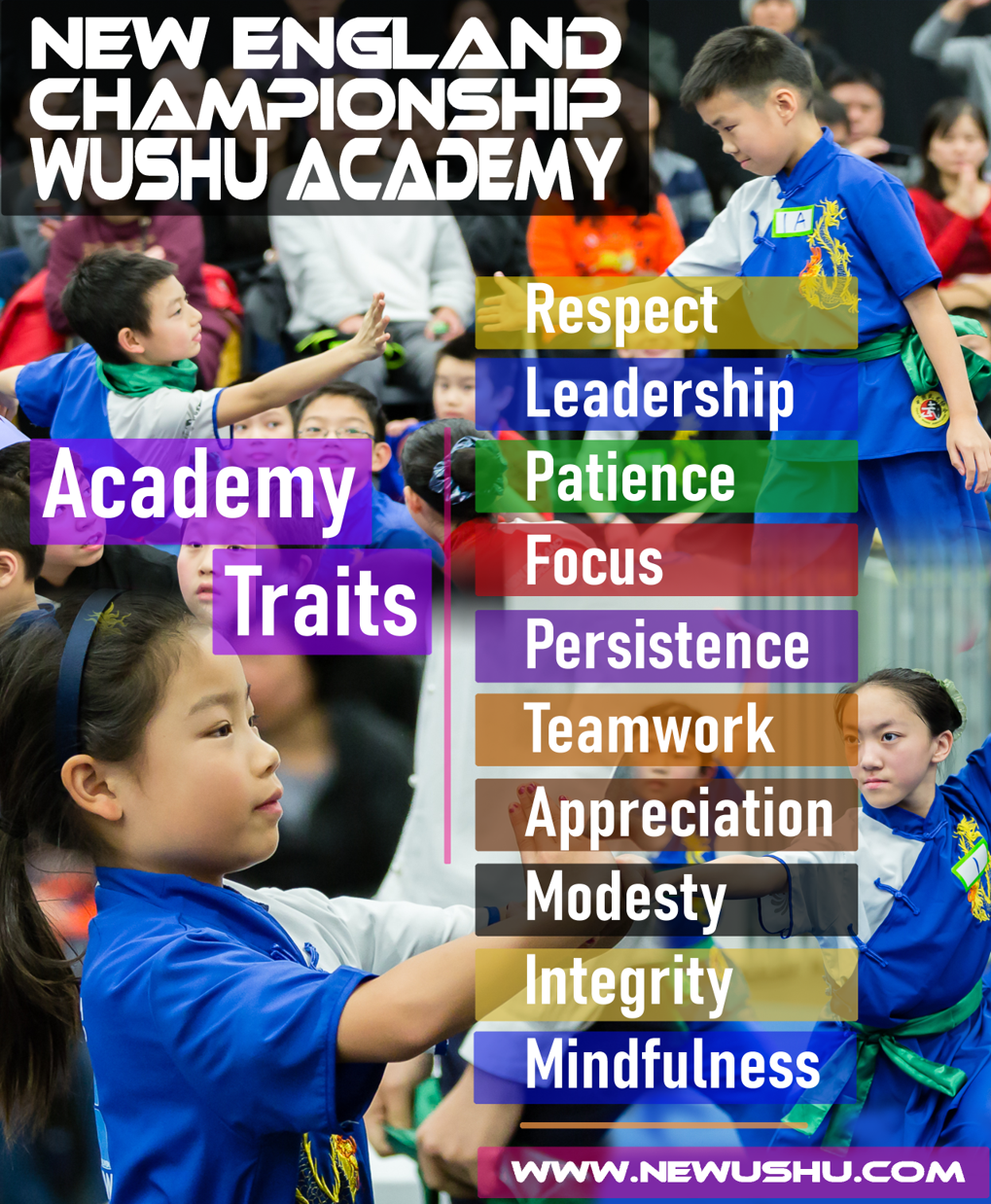 Sash testing is held every session in both large group and private testing


In order to receive promotion to the next sash level, students are required to achieve a passing score during sash test evaluations. The skills tested for each season (Fall, Summer or Spring) will be determind by the coaching team at our main location in Burlington.

Our sash levels are as follows: Yellow > Blue > Green > Red > Purple > Orange > Brown > Black > Gold

Top of page
All students in all of our curriculums must wear their academy uniforms to classes/practices.
To purchase a uniform please contact us at info@newushu.com OR contact us via WeChat (QR code located at the footer of page)
Add the desired enrollment pass into the shopping cart. Add discount code in the shopping cart if applicable. Proceed to checkout and complete payment. Note: There is a 1.5% processing fee for all card transactions.

Discount codes:
Full Session
Jan-Jun 2023
Discount codes for SPR 2023:
use code OFF150 for 150$ OFF
use code OFF125 for 125$ OFF
use code OFF100 for 100$ OFF
use code OFF75 for 75$ OFF
use code OFF50 for 50$ OFF


Taolu Team 2x,3x,4x: 150$ OFF
Combat Team 1x: 100$ oFF
Combat team 2x: 125$ OFF
Combat team 3x: 150$ OFF

Sanda Curriculum: 50$ OFF
Youth Unlimited: 150$ OFF
Youth Limited: 100$ OFF

Adult 1x/week: 75$ OFF
Adult Unlimited: 100$ OFF
Taiji: 100$ OFF

Make check payable to NECWA. Reflect discount in payment amount. Must receive check by discount end date. Please include in memo: (Name of student) + (enrollment option) + (email address). It is important to include your email address if you are a new academy student.
Top of page
Zelle payment to wushu688@gmail.com Please make sure to include memo of (student name) + (enrollment option) + (email address)
Top of page
Venmo payment: Please email us for instructions. Please make sure to include memo of (student name) + (enrollment option) + (email address).
Top of page
After payment, the next steps would be to login to your account and sign the waiver. To login please check your email for the activation email. If the email link has expired, please click "Log in" at the top of this page. Click "Forgot password" then follow the steps to set up a new password. If you are a returning student, please login here
If you paid via Venmo, Zelle or Check, please allow 24-48 hours for processing. Your account will be created if you are a new academy student. If you have previously enrolled, your account will be updated with a valid pass within 24-48 hours. New students should provide an email address within the memo if paying via check, Zelle or Venmo.
Top of page