All students will receive temperature check at the door. We will also be requiring masks by all who enter the facility. Please be sure to bring your own water bottles as our water fountains are still shut off.
All students should wear comfortable attire for physical activity. Bring water bottle, lunch and snacks. We will provide some snacks for all attendees. Finally, bring a change of clothes as participants will engage in activities, exercise and games certain to make you sweat! Because of COVID, please prepare a mask
Yes! most definitely. Our wushu weeks our one of the best options for current students to foster current skills. If you have any questions, please email us at info@newushu.com
Yes! our camps are one of the best ways to be introduced to Wushu. Our camp kids learn A LOT of skills and are well prepared to transition into regular weekly classes. If you have any questions, please email us at info@newushu.com
Every student at the academy, will have a class dojo account. Class dojo accounts are used for our rewards program. Students and families will be able to use points to redeem prizes, discounts and more! We have a prize table on-site at our Burlington location. You can also view our current prize offerings HERE. Students earn points by demonstrating good behavior during classes, practices and/or completing challenges. In order to join our class dojo, please follow the link here. Once you click this link, Join our class and find your child's name in the class roster and follow steps to complete registration.
IF you have just enrolled you may need to wait a couple of days until we add your name into the system. If you still are not seeing your name please contact us!
Sash levels is a rank promotion system for students in our general curriculum. Our sash level begins at Yellow sash and progresses to black sash (see image below). Students will progress and learn various taolu(form), sanda(combat), self defense and tumbling skills of increasing difficulties as they progress.

Yes! For each family member that enrolls tuition will be discounted. 2nd sibling or family member that enrolls will enjoy a 10% discount (applied to the second family member). 3rd sibling or family member will enjoy a 20% discount (applied to both the 2nd and 3rd family member).
Tuition is non-refundable after the session period has started. Tuition refunded before the session starts incurs a 3% processing fee. There are no refunds or returns accepted for equipment and/or uniform purchases. We will allow size exchanges up to 1 week of purchase.
In addition to martial arts, our coaching staff is dedicated to teaching our students the importance of etiquette and respectful behavior. Our youth students will learn the 10 academy traits alongside their martial arts training (See below).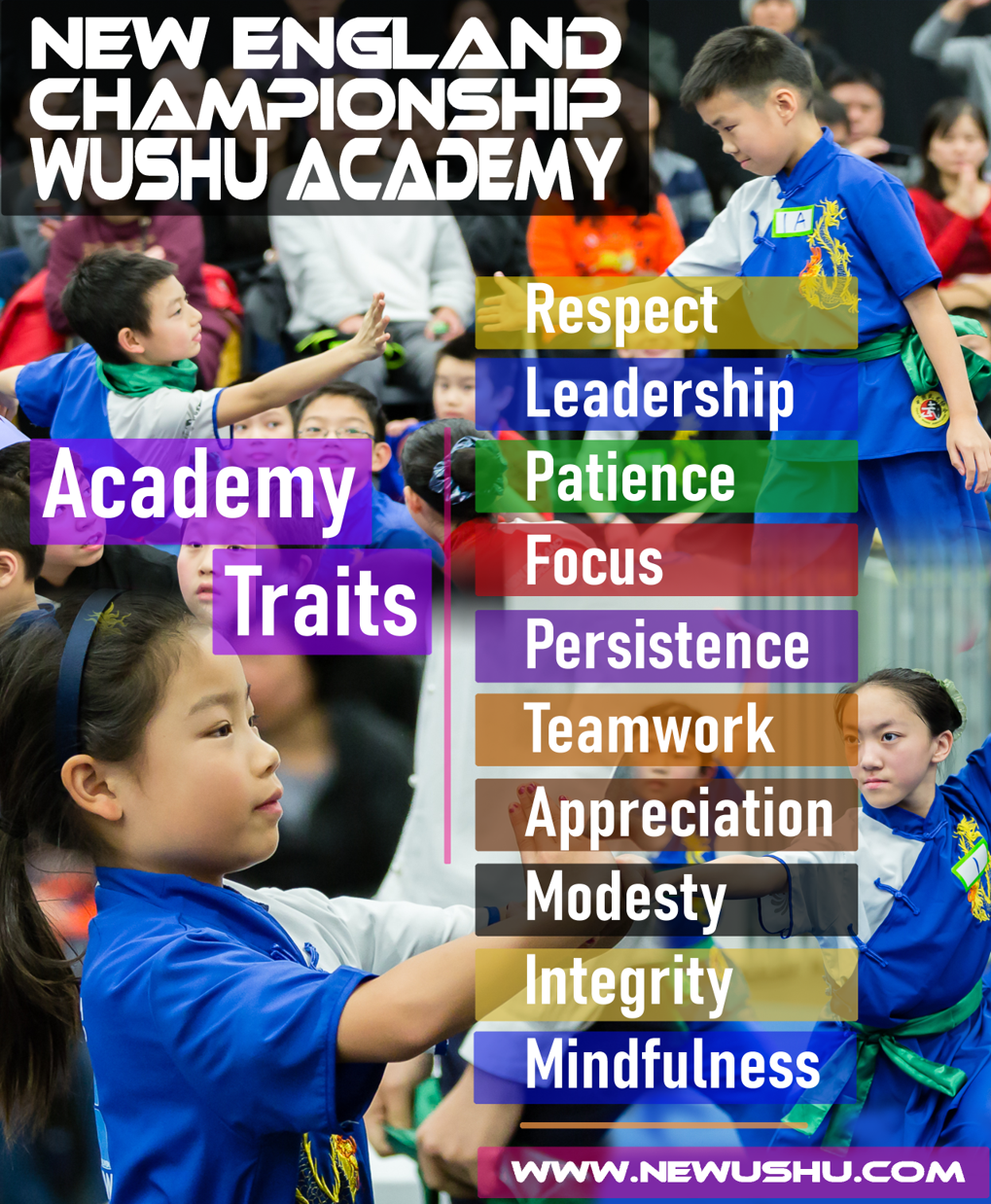 Taolu is forms training. Form are choreographed sequence of movements to help students build up their Wushu skills. Within Taolu skills include stances, kicks, punches, jumps, weapons and tumbling skills. Taolu includes both barehand and weapons training. Taolu is great for building up youth strength, coordination, flexibility and endurance.
Sanda is a form of kickboxing. This is the combative element of Wushu. Our general curriculum includes the practice of Sanda. Students will learn various striking, grappling and defensive skills. Like Taolu (forms), Sanda is great for building youth strength, coordination, flexibility and endurance.
Academy skills are special skills we learn in addition to Wushu. This includes challenging skills like folding clothes quickly, tying shoe laces fast and much more, skills that are useful to our youth growing up.
After payment, the next steps would be to login to your account and sign the waiver. To login please check your email for the activation email. If the email link has expired, please click "Log in" at the top of this page. Click "Forgot password" then follow the steps to set up a new password. If you are a returning student, please login here
If you paid via Venmo, Zelle or Check, please allow 24-48 hours for processing. Your account will be created if you are a new academy student. If you have previously enrolled, your account will be updated with a valid pass within 24-48 hours. New students should provide an email address within the memo if paying via check, Zelle or Venmo.
Uniform is not required for Winter Wushu week. But if you want to purchase a uniform, weapons and shoes please see a coach or staff member in person at your next on-site visit. One of our staff members will advise and help you find the right size for you. Alternatively, you can email us at info@newushu.com