Free Trial classes available. Click enrollment below for more information.
To complete enrollment payment must be completed. In order to redeem discount, all payments must be received before the discount date.

Reminder: We have a sibling discount
2 family members (second family member enjoys a 10% discount)
3 family members (second and third family member enjoys a 20% discount)
To enroll complete payment for the program option via one of the payment methods (see below). Once payment is received, you will receive a receipt and your account will be updated with a valid pass. Please allow up to 24-48 hours for processing if paying via PayPal, Check, Cash or Zelle. If you need assistance, you can send us a message at info@newushu.com or contact us on WeChat (see the footer of page for QR code). To view tuition rates, please expand the tuition table below.
Taiji is a Chinese martial art that takes on a combination of form training, meditation and full body movement. It is known for its low-impact movements and is often practiced for its health benefits. Taiji is well suited for adults of all ages, including adults who may find other forms of physical activities difficult because of joint health or other limitations in mobility. Taiji practice consist of barehand and apparatus practice supplemented by meditation, mindfulness and partner training. New England Championship Wushu Academy has partnered with Define Your Fitness to provide a curriculum that conflates principles of modern wellness with the health-improving principles of Taiji. Our curriculum was developed by experienced Taiji coaches and fitness coaches with the main goals of helping everyone boost fitness and improve overall health.
Online Option: We teach the standard Taiji forms starting with Taiji 8, 16, 32 and so on. We teach Taiji fist, taiji sword, taiji fan, Rouli qiu and more!. We also teach other internal styles including Bagua, Xingyi and more etc.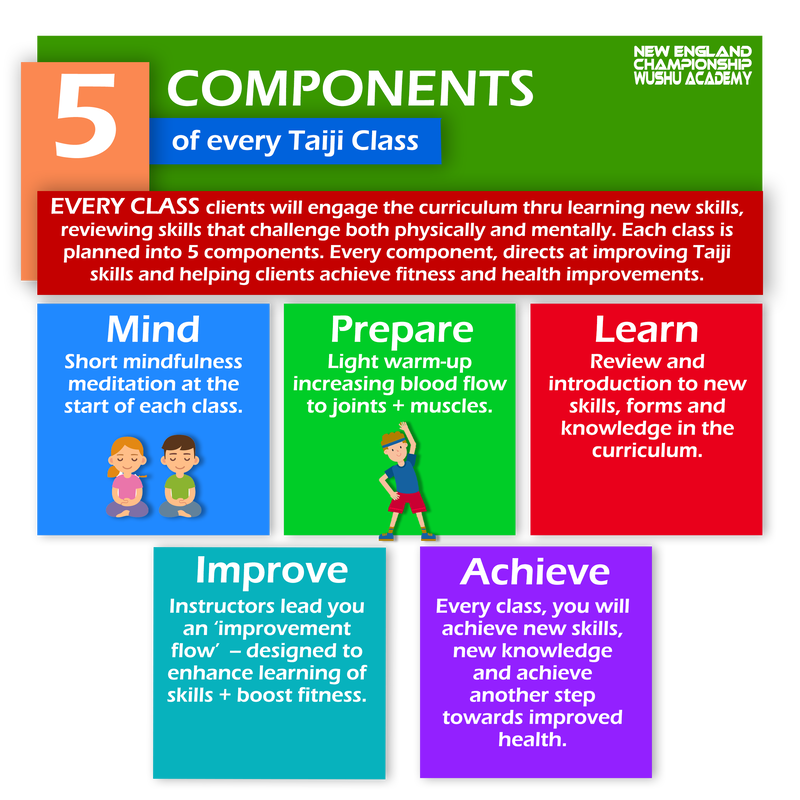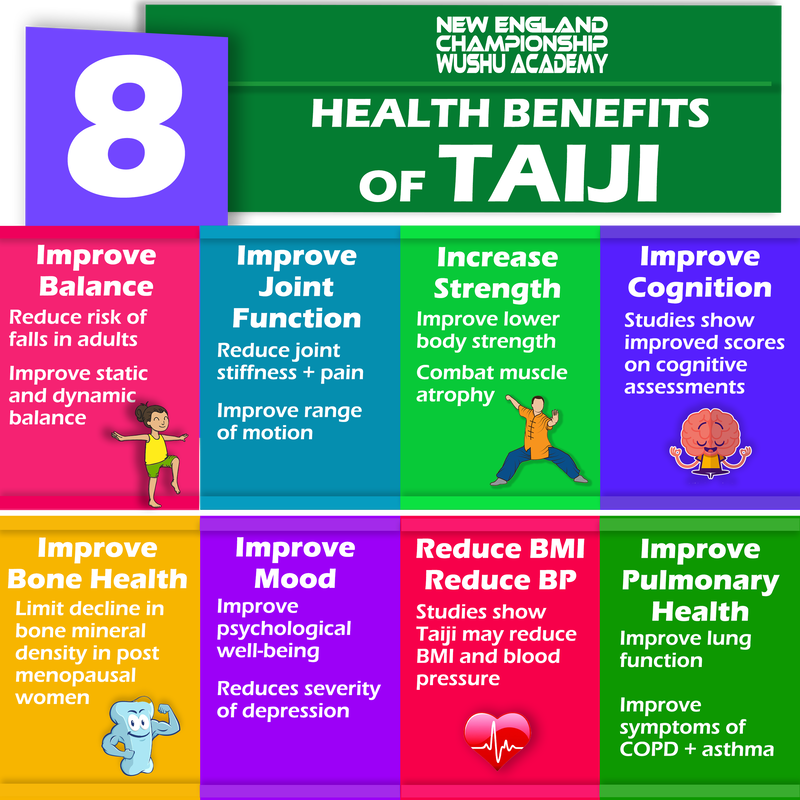 Add the [Taiji trial class] purchase option to the cart below and complete checkout (0$ charge). If you do not have an account you will need to create an account first to obtain a Taiji trial class pass. Your pass will expire within 2 weeks after receiving the pass. You can attend any class labeled Taiji on our schedule. To view schedule see below.
Academy Full Schedule
-Spring 2022-
Taiji Health
Full Session
January to June 2022
6 months Full session
100$ OFF If enroll by Jan 9th
Online and On-site options
Suitable for all experience levels.
World class experienced instructors


-Spring 2022-
Taiji Health
Monthly
Jan to Jun 2022
6 months Full session
10$/mo OFF If enroll by January 9th
Online and On-site options.
Suitable for all experience levels.
World class instructors.


All students will receive temperature check at the door. We will also be requiring masks by all who enter the facility. Please be sure to bring your own water bottles as our water fountains are still shut off.
Add the desired enrollment pass into the shopping cart. Add discount code in the shopping cart if applicable. Proceed to checkout and complete payment. Note: There is a 1.5% processing fee for all card transactions.
100$ OFF Discount code: FALL2021
Make check payable to NECWA. Reflect discount in payment amount. Must receive check by discount end date. Please include in memo: (Name of student) + (enrollment option) + (email address). It is important to include your email address if you are a new academy student.
Zelle payment to wushu688@gmail.com Please make sure to include memo of (student name) + (enrollment option) + (email address)
Venmo payment to @NEWUSHU. Please make sure to include memo of (student name) + (enrollment option) + (email address)
Monthly options students will only be able to pay via virtual terminal. Please view the cart below, and add the respective monthly option for your class. We will not accept any other payment methods for the monthly option. Monthly payments are automatic, clients will have manual control by logging in to your account to stop payments at any time.
After payment, the next steps would be to login to your account and sign the waiver. To login please check your email for the activation email. If the email link has expired, please click "Log in" at the top of this page. Click "Forgot password" then follow the steps to set up a new password. If you are a returning student, please login here
If you paid via Venmo, Zelle or Check, please allow 24-48 hours for processing. Your account will be created if you are a new academy student. If you have previously enrolled, your account will be updated with a valid pass within 24-48 hours. New students should provide an email address within the memo if paying via check, Zelle or Venmo.
Xiaoyi Chen, Head Coach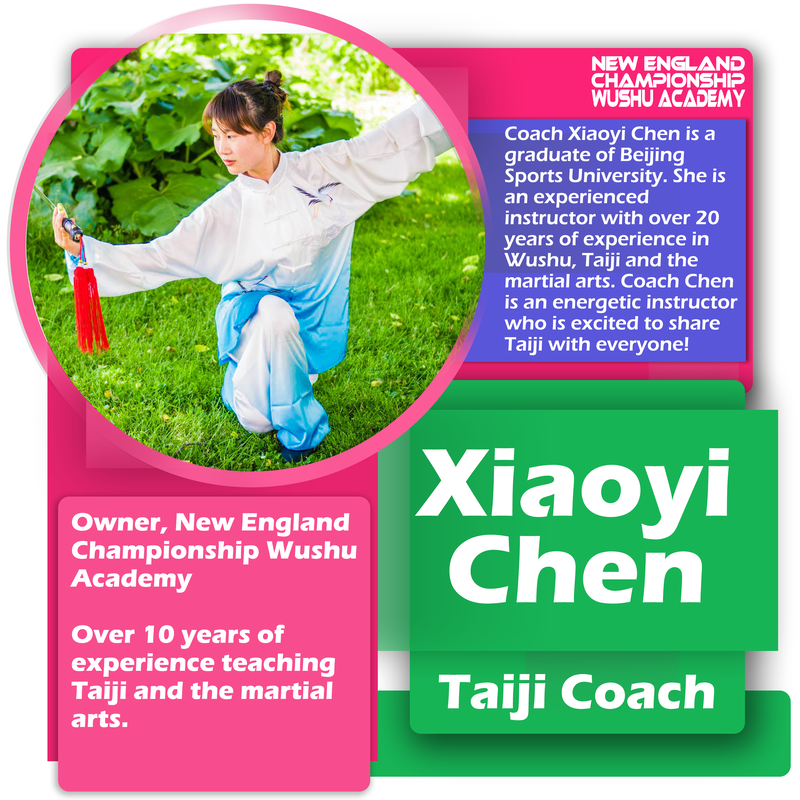 Wenxiang Bai, Taiji Coach

Michael Chang, Taiji Coach

Info TBD