Location: New England Movement Arts. 123 Muller Rd. Burlington, MA 01803
Class Times:
Monday 5:00-6:00pm
Saturday 1:00-2:00pm
Sunday 11:00am-12:00pm
6-Week Session: starts week of October 16.
No Classes week of Oct 30 and week of Nov 20.
​
Tuition: $128 per class/6 week session includes custom light sword(pictured below).

Class Description: In this light sword class, students will learn how to wield a sword. Students will learns skills in striking, blocking and sword-to-sword technique. Light sword skills will also incorporate other Wushu skills such as kicks, tumbling and various ground techniques. Students will be assisted in selecting/customizing/building their own duel ready light sword for cool sword fighting effects in the dark!


OR
​Call (781) 272-6362 to sign up!
---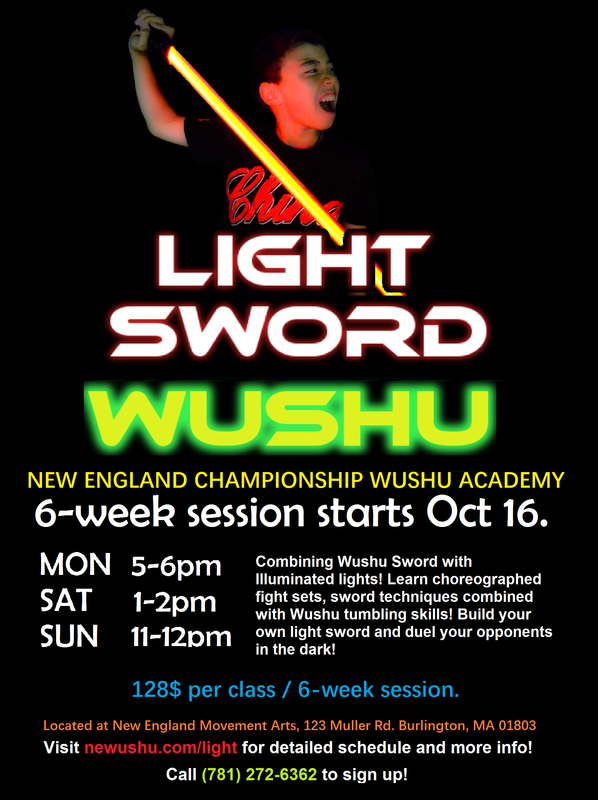 ---
WEEK 1. October 16
---
Basic Teachings

​Foam Swords: We will continue reviewing basic techniques with foam sword. And begin learning sword to sword choreographed dueling sets (Style 1) with these swords.
Plastic Swords: Students will have a chance to swing around hollow plastic swords in order to acclimate to the full duel light swords they will eventually build and wield.
Light Sword Building: Students will select accessory designs to complement their hilt.
---
---
---
---
Wushu Light Sword Trials
The Wushu sword trials is designed to test the strength and skills of students. It is their final test in becoming a true Wushu light sword warrior!

We will finalize duel set (Style 1), duel set (Style 2)!


​
​
---